Office Hours
Monday – Friday
8:00am – 5:00pm
(+84) 272 376 9216 (116)
Hotline: 076 436 2098
---
 TAN TAO UNIVERSITY
Gillis Hall, Tan Tao University Avenue, Tan Duc E.City, Duc Hoa, Long An Province
---
Contact Us
For questions regarding academic courses and credits, please contact:
Dr. TA VAN QUANG (TS. TẠ VĂN QUANG)

HP: 076 436 2098
Vice Dean of SB
FULL-TIME
---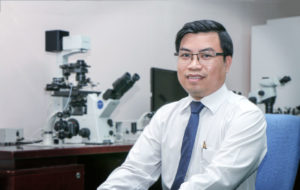 Dr. Dinh-Truong Nguyen previously worked as a Post Doctoral Researcher in Genome Biology Lab at Konkuk University, Seoul, South Korea, where he completed his Ph.D. in 2013. His research interests lie in the area of Genetics, Immunogenetics, Epigenetics, Evolutionary biology, and Genomics. Actively, he has collaborated with researchers in the Labs from Korea and other countries to publish meaningful and essential data in numerous international conferences and high-quality journals such as Nature (England), BMC Genomics (England), BMC Genetics (England), Animal Genetics (England), Animal Biotechnology (USA), Tissue Antigens (Denmark), Journal of Agricultural and Food Chemistry (USA), Oncotarget and etc. He is currently focusing on projects about Personalized therapy in cancer treatment as well as researching natural products, which could contribute to providing some clues in improving human health using microbes and animal models.
---
Quang Van Ta, PhD
Dr. Quang Van Ta entered TTU as a lecturer in the School of Biotechnology. He is currently giving lectures on Cancer, Microbiology, and Molecular Biology subjects to students in the School of Biotechnology, TTU.
Dr. Quang Van Ta completed his Ph.D. in the Marine Biochemistry laboratory at Pukyong National University, Busan, Republic of Korea. His research focused on Cancer, Molecular pharmacology, Neurology, and Natural products. He has cooperated with members of the Pharmacology lab-Sungkyunkwan University, the Korean Food Research Institute, and the Marine Biochemistry lab- at Pukyong National University (Korea), published many scientific papers in international journals such as American Journal of Physiology-Lung Cellular and Molecular Physiology, European Journal of Pharmaceutical Sciences, Marine Biotechnology, Life Sciences, Cellular Immunology, etc. He is currently focusing on cancer and natural product research that could contribute to improving human health.
---
Phuong Thi Yen Dinh, PhD
Dr. Phuong Thi Yen Dinh graduated with her Ph.D. in Plant Pathology in 2015 at Washington State University in the U.S. She is interested in Plant Biotechnology and Applied Biotechnology in Agriculture. Not only worked in the molecular lab, but she also accumulated field experiences to apply new and advanced technologies as well as modern cultivating systems (agro-ecological crop production) to improve crop growth and protect crop health. She is currently building the bridge among universities, research institutes, and private agricultural companies to develop the research results to become production practices in crop fields. She also has connections with international experts in France, the U.S, Australia, and New Zealand to introduce their research and experiences in Vietnam.

Ngoc Thien Lam, PhD
Dr. Ngoc Lam graduated from the University of Arkansas, Fayetteville, AR, USA, in 2018 with a Ph.D. in Cell and Molecular Biology. Her research focused on developing 2D and 3D models to study the behavior of heart valve cells under pathological conditions. Dr. Ngoc Lam also spent a year working as a Postdoctoral researcher at the Medical College of Wisconsin, Milwaukee, WI, USA  where she used in vitro and in vivo models to identify drug targets for the treatment of Duchenne muscular dystrophy-associated cardiomyopathy.
Joining TTU, Dr. Ngoc Lam will serve as a lecturer and a researcher at the School of Biotechnology.

Hien Duy Tran, PhD
Ph.D. in Probability and Statistics (2009), New Mexico State University, USA.
Dr. Tran Duy Hien graduated with a doctorate in Probability and Statistics in 2009 at New Mexico State University, USA.
He is currently teaching courses such as Calculus 1,2,3, Linear Algebra, ODE & PDE, Discrete Maths, Probability and Statistics for Engineering, Probability and Stochastic Process, Bio-Statistics and Business Statistics. Prior to work at Tan Tao University, Dr. Hien taught at Notre Dame University and Central Michigan University, USA.
Besides teaching, "Structure dependence of random variables" and "Model of probability and statistics for exploiting big data" is the current direction of his research.

Vu Khanh Tran Assoc. Prof. PhD
Ph.D. in Math (2010), University of Padova, Italy
Prof. Tran Vu Khanh completed his Ph.D. in Mathematics at the University of Padova (Italy, 2010). After that, he worked at Tan Tao University (2011), the National University of Singapore (Singapore, 2013), and the University of Wollongong (Australia, 2015). His research papers were published in high-prestige journals such as Inventiones Mathematicae, and Advances in Mathematics. Prof. Khanh was awarded the 2011 Scientific Prize from the Institute of Mathematics in Hanoi, Vietnam for his particularly outstanding achievements in mathematics. In 2013, he was invited to be one of five plenary speakers at the largest mathematical conference in Vietnam. He completed the national research project of Australia (ARC DECRA 2019) and of Vietnam (NAFOSTED 2014). Currently, he is a member of the editorial board of Vietnam Journal of Mathematics, Journal of Korean Mathematical Society (a SCI journal).

Linh Phuong Nguyen, BA (Secretary & Lab Specialist)
Ms. Linh Phuong Nguyen is currently the secretary of the faculty and the laboratory manager of the School of Biotechnology at Tan Tao University. Ms. Linh Phuong Nguyen obtained her B.A. in the field of Biotechnology at the National University of Ho Chi Minh City, University of Sciences. Her thesis is about evaluating the role of organic extracts in the in vitro culture of Ngoc Linh ginseng somatic embryos. She had one experience year in researching in vitro plant tissue culture at the plant cell technology department, Ho Cho Minh City Institute of Tropical Biology. She then moved to the School of Biotechnology, Tan Tao University, to work as a faculty secretary and laboratory specialist. Currently, her research interests focus on plant tissue culture, synthesis, and investigation of antibacterial & antifungal activities of nanoparticles synthesized from plant extracts with potential bioactivity properties.
---